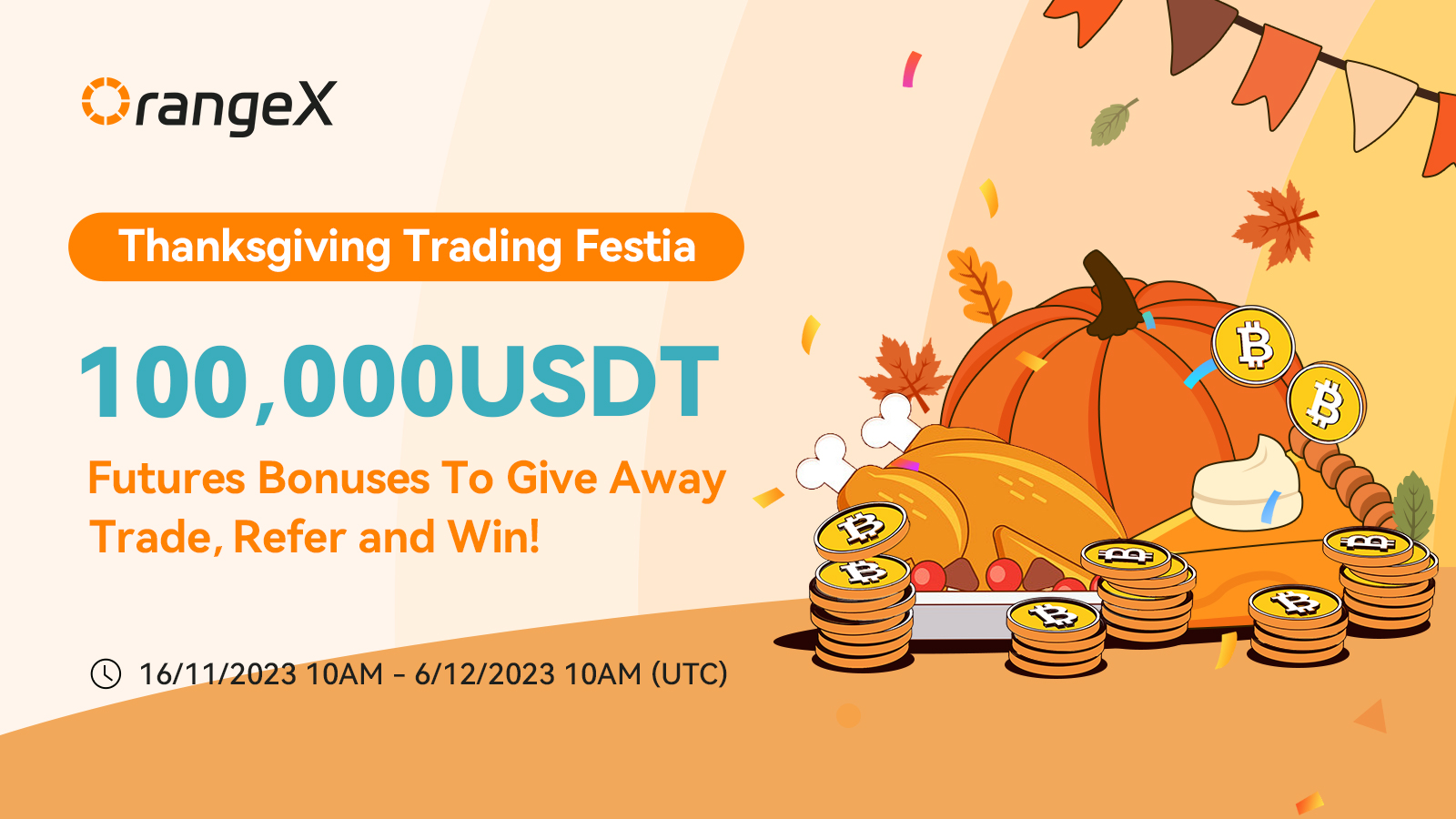 This campaign has been concluded ahead of time since the participants and traders for this campaign have reached a new peak and current prize pool totally run out. Thanks for your warm participation.
===========================================================================
In this gratitude-giving season, OrangeX is thrilled to announce our Thanksgiving Trading Festia – Invite Your Friends, Harness the Waves of Volatility, and Trade to Win Big Bonuses!
Event Period: 16/11/2023 10AM - 6/12/2023 10AM (UTC)
Registration Criteria:
No minimum balance and registration required ! Just trade USDT perpetual contracts and win the rewards.
Event Highlight
Activity 1: Airdrop for New Users Only ( Prize Pool:20,000 USDT Bonus)
During the event period, we will randomly select 2,000 first-time traders who trade any of the trading pairs from USDT-M perpetual futures to receive a bonus package worth 5-100 USDT.
Activity 2: Invite Friends to Boost You Up Rewards! ( Prize Pool:40,000 USDT Bonus )
Invite your friends and get up to 100 USDT in bonuses when your referrals use your link or code, and fulfill the criteria. Each of your qualified referee can earn 10 USDT bonus respectively. The more friends you invite, the bigger the reward!
Prize Pool For Referrals: 20,000 USDT Bonus
| | |
| --- | --- |
| Total number of referrals | Total Bonus Rewards |
| ≥3 | 30 USDT |
| ≥5 | 50 USDT |
| ≥10 | 100 USDT |
Prize Pool For Referees: 20,000 USDT Bonus
All referees who have successfully registered for an OrangeX account through any referral links or codes can earn 10 USDT in bonuses.
Referee Criteria:
1. Make sure you sign up for an OrangeX account via your friend's referral link.
2. Make sure you complete KYC verification, deposit a minimum of $100 and accumulate perpetual contracts trading volume ≥ 10,000 USDT.
Activity2's rewards are first come first served — so don't wait!
Activity 3: Trade Like A Champion ! ( Prize Pool:40,000 USDT Bonus )
During the event period, the top 50 traders by trading volume will be qualified for a share of 40,000 USDT prize pool.
The detailed p
rize pool allocation as below:
| | |
| --- | --- |
| Ranking by Trading Volume | Prize (USDT Bonus) |
| TOP1 | 8500 |
| TOP2 | 5500 |
| TOP3 | 4500 |
| TOP4 | 3500 |
| TOP5 | 3000 |
| TOP6 | 2500 |
| TOP7 | 2000 |
| TOP8 | 1500 |
| TOP9 | 1200 |
| TOP10 | 800 |
| TOP11~50 | Share 7,000 USDT based on proportion of event trading volume. Reward is capped at 100 USDT bonus per user. |
*Do note that you'll have to reach a minimum perpetual trading volume of 500,000 USDT during the event period to be eligible for Activity3's rewards.
Rules:
1. Users need complete KYC identity verification to claim all above rewards.
2. The rewards for Activity 1 will be randomly distributed among all qualified participants.
3.
The rewards for Activity 2 will be distributed on a first-come, first-served basis until the prize pool runs out. The rule of platform referral program is also applicable to Activity 2.
Users from India, Vietnam, Indonesia, Bangladesh, Africa, Pakistan, Turkey and Russia are not eligible for the referral rewards.
4.
Winners for
Activity 3
must have an individual accumulated perpetual trading volume of 500,000 USDT or more during the event period.
5. This event is exclusively for individual users. Market makers and institutional accounts are not allowed to participate in this event. Sub-accounts are not allowed to participate in the event as independent accounts.
6. The ranking results will be calculated according to the trading volume of the USDT perpetual.Trading Volume= Open Position Amount + Closed Position Amount
7. When multiple participants have the same trading volume , the participant who complete the trading volume earlier will take precedence in the ranking.
8. All USDT rewards will be distributed in the form of trading bonuses. Bonus distribution will occur within 10 days after the conclusion of event.
Terms & Conditions:
1.OrangeX reserves the right of final interpretation of this campaign and also reserves the right to disqualify the participants due to and not limited to the following circumstances: multi-account operation, self-transaction, market manipulation, etc;
2. In the event that our risk control engine detects identical trading strategies being employed by multiple participants, only the participant displaying the highest profit rate at that specific time will remain eligible for participation.
3. Should the risk control engine identify any form of collusion among multiple participants, all individuals involved will face immediate disqualification from the campaign.
4. Bonus can be used as trading fee or trading margin, or to cover funding fee. Please refer to "OrangeX Bonus Introduction" in OrangeX Support.