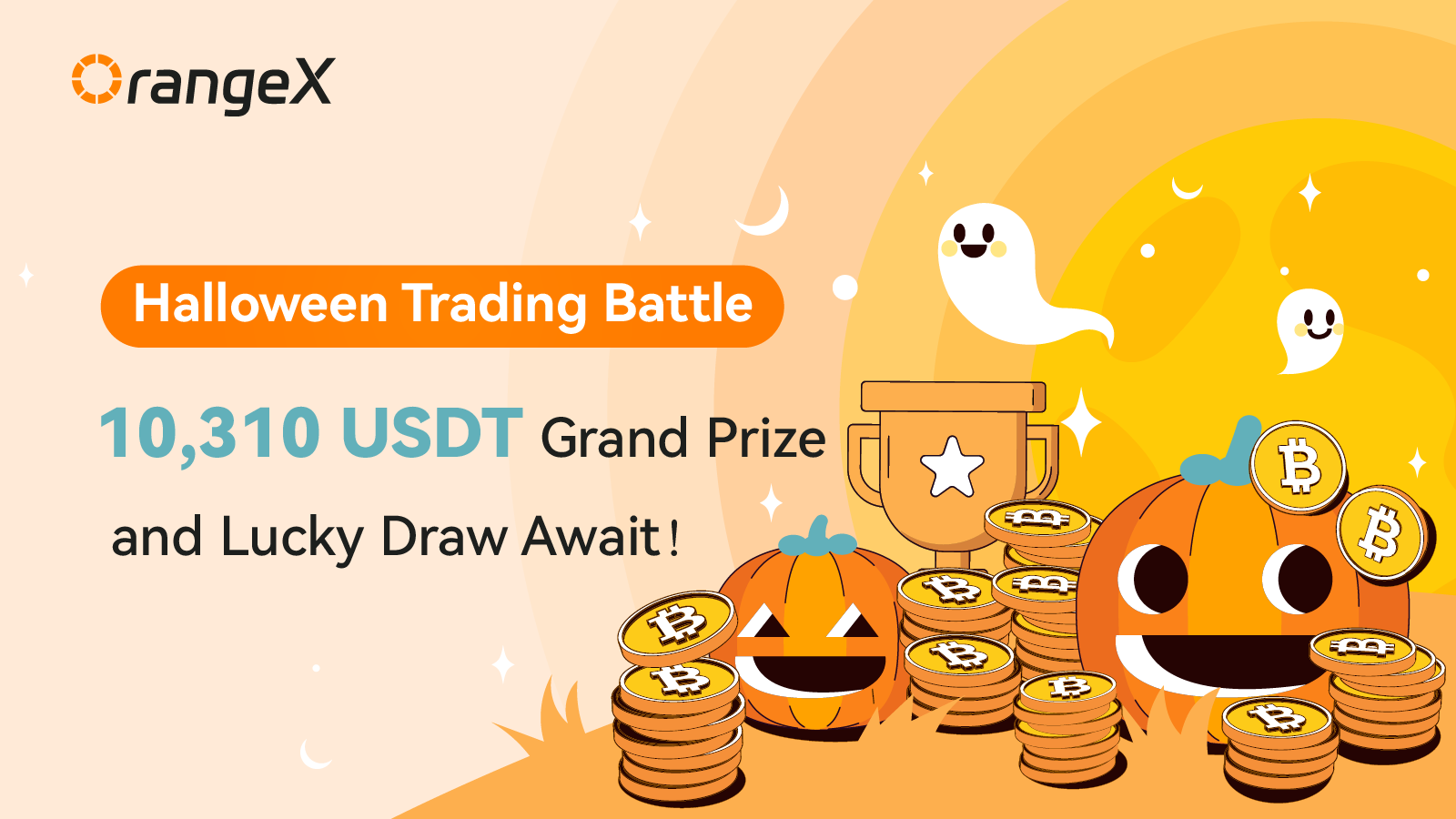 Dear OrangeX Users,
Halloween is approaching, and we're celebrating it with a special trading battle. You have a chance to win fantastic prizes, including 10,310 USDT prize and a brand new Apple Max Wireless Headphones lucky draw! Trade or Treat? Let's thrive on your trading journey this Halloween with OrangeX.
Details of the activities are as follows:
Event Period: 16/10/2023 10AM - 31/10/2023 10AM (UTC)
Registration Criteria:
No minimum balance and registration required ! Just trade USDT perpetual contracts and win the rewards.
Event Highlight
Activity1: Trading Volume Competition - Prize Pool:10,310 USDT Bonus )
During the event period, the top 20 traders by trading volume will receive a juicy reward, with the top trader receiving 3,310 USDT!
| | | | | | | |
| --- | --- | --- | --- | --- | --- | --- |
| TOP 1 | TOP 2 | TOP 3 | TOP 4 | TOP 5 | TOP 6~10 | TOP 11-20 |
| 3,310 USDT | 1,500 USDT | 900 USDT | 600 USDT | 500 USDT | 300 USDT | 200 USDT |
*Do note that you'll have to reach a minimum Perpetual trading volume of $1,000,000 during the competition period to be eligible for rewards.
Activity 2: Lucky Draw - Apple Max Wireless Headphones(worth $549)
Simply reach a Perpetual trading volume of $5,000,000 during the competition period to be eligible for the draw.3 lucky winners will walk away with brand new Apple Max Wireless Headphones (worth $549)!
Rules:
1. This event is exclusively for individual users. Market makers and institutional accounts are not allowed to participate in this event. Sub-accounts are not allowed to participate in the event as independent accounts.
2. All USDT perpetual futures available on the OrangeX platform are eligible trading pairs for this event.
3. The ranking results will be calculated according to the trading volume of the USDT perpetual.Trading Volume= Open Position Amount + Closed Position Amount
4. When multiple participants have the same trading volume , the participant who complete the trading volume earlier will take precedence in the ranking.
5.
Participants who want to win the prizes must have met the minimum trading volume requirements.
6. USDT prizes are OrangeX trading bonuses. Bonus distribution will occur within 10 days after the conclusion of event.
7. Winners of physical prizes will be contacted via email to provide their mailing details.In case of any unavailability or delay of the prize, OrangeX reserves the right to modify the prize or provide a substitute.
Terms & Conditions:
1. OrangeX reserves the right of final interpretation of this event and also reserves the right to disqualify the participants due to and not limited to the following circumstances: multi-account operation, self-transaction, market manipulation, etc;
2. In the event that our risk control engine detects identical trading strategies being employed by multiple participants, only the participant displaying the highest trading volume at that specific time will remain eligible for participation.
3. Should the risk control engine identify any form of collusion among multiple participants, all individuals involved will face immediate disqualification from the event.
4. Bonus can be used as trading fee or trading margin, or to cover funding fee. Please refer to "OrangeX Bonus Introduction" in OrangeX Support.