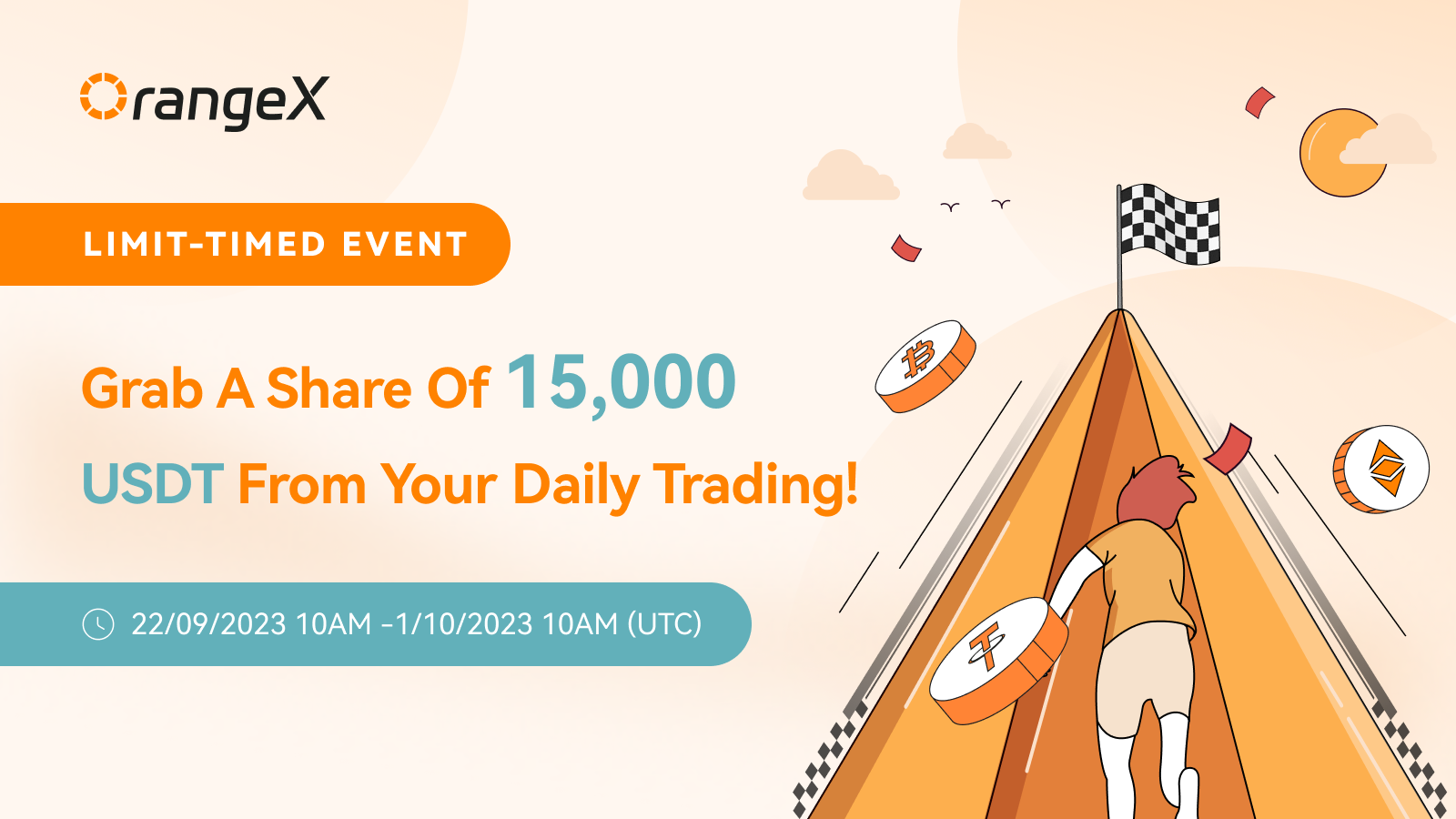 Dear OrangeX Users,
We are thrilled to unveil an exciting new trading event – Trade perpetual contracts and stand a chance to win up to 15,000 USDT!
Event Period: 22/09/2023 10AM - 1/10/2023 10AM (UTC)
Registration Criteria:
Simply trade USDT perpetual contracts during the event period to automatically qualify as a participant. No additional registration is necessary.
Event Highlight


Daily Check-in Task:Throughout the event, traders who trade perpetual contracts over 5 days will receive a 10 USDT bonus. This is limited to the first 500 eligible participants on a first-come, first-served basis.


Total Trading Task: During the event period, the top 100 traders who accumulate a total trading volume of ≥ 100,000 USDT in perpetual contracts will share a prize pool of 10,000 USDT based on their trading volume.
Rules:
This event is exclusively for individual users. Market makers and institutional accounts are not allowed to participate in this event. Sub-accounts are not allowed to participate in the event as independent accounts.

Rewards cannot be claimed concurrently with rewards for other perpetual trading tasks of the same type on the platform.

Bonus distribution will occur within 10 days after the conclusion of each weekly event.
Terms & Conditions:
OrangeX reserves the right of final interpretation of this campaign and also reserves the right to disqualify the participants due to and not limited to the following circumstances: multi-account operation, self-transaction, market manipulation, etc;

In the event that our risk control engine detects identical trading strategies being employed by multiple participants, only the participant displaying the highest profit rate at that specific time will remain eligible for participation.

Should the risk control engine identify any form of collusion among multiple participants, all individuals involved will face immediate disqualification from the campaign.

Bonus can be used as trading fee or trading margin, or to cover funding fee. Please refer to "

OrangeX Bonus Introduction

" in OrangeX Support.