Know Your Client (KYC) is a set of standards and requirements investment and financial services companies use to verify the identity of their customers. To put it in a nutshell, KYC verification is identity verification. It's an acronym for "Know Your Customer/Client".
The KYC procedures are widely embraced by financial institutions to ensure the authenticity of their prospective customers/clients and to maximize transaction safety and compliance to the greatest extent possible. Presently, KYC verification is mandatory across major crypto exchanges worldwide. Without completing this verification, users are unable to access all features and services. Kindly follow the instructions below to successfully complete your KYC verification:
Step1: Click the icon on the upper-right corner of the homepage, then go to the [KYC Verification] section.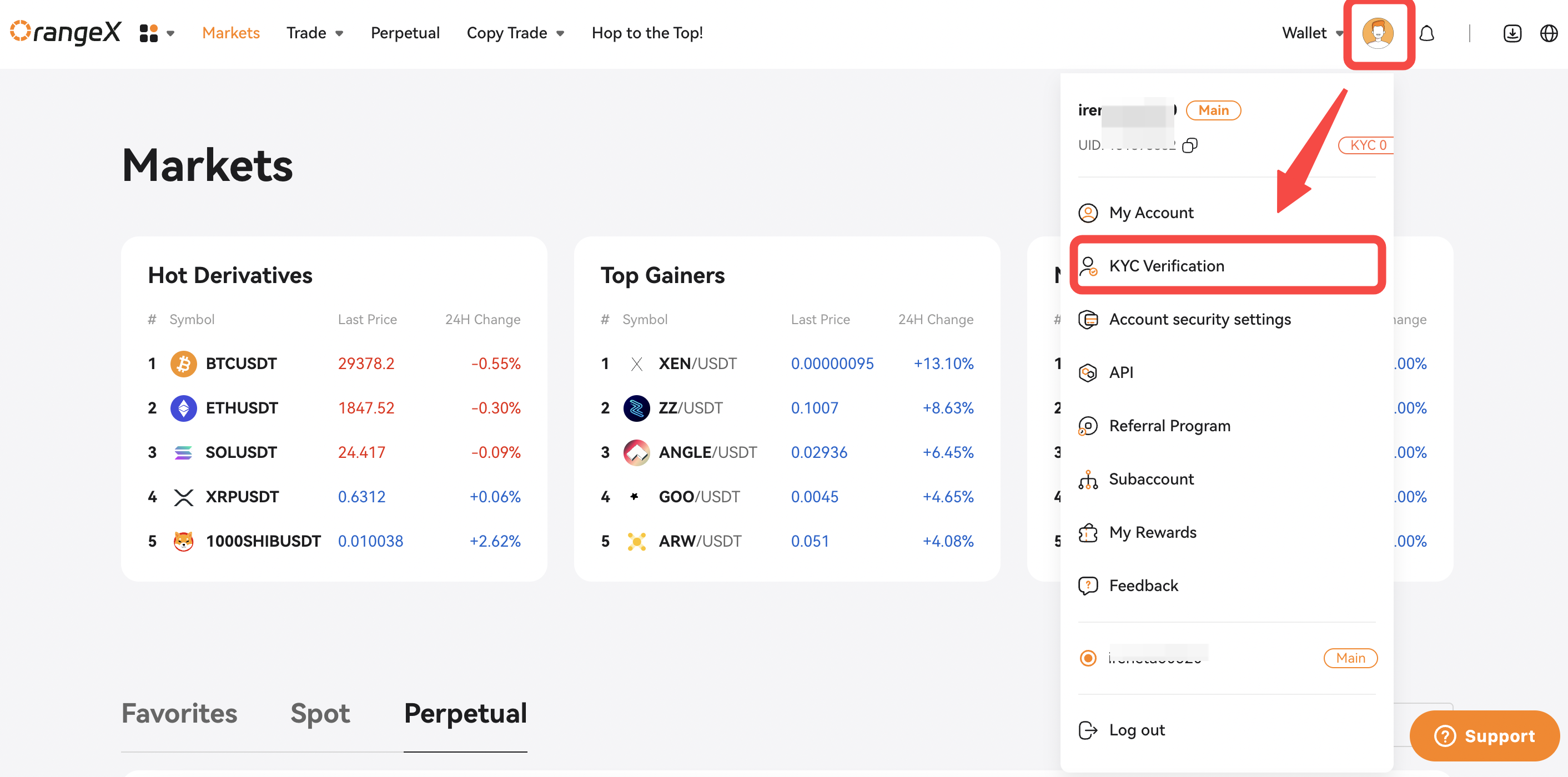 Step2: Here, you'll see the three KYC types, which are composed of Basic, Individual KYC, Enterprise KYC. User with each KYC type has different benefit rights. We will take Individual KYC verification as an example. Click [Begin Verification] under [Individual KYC].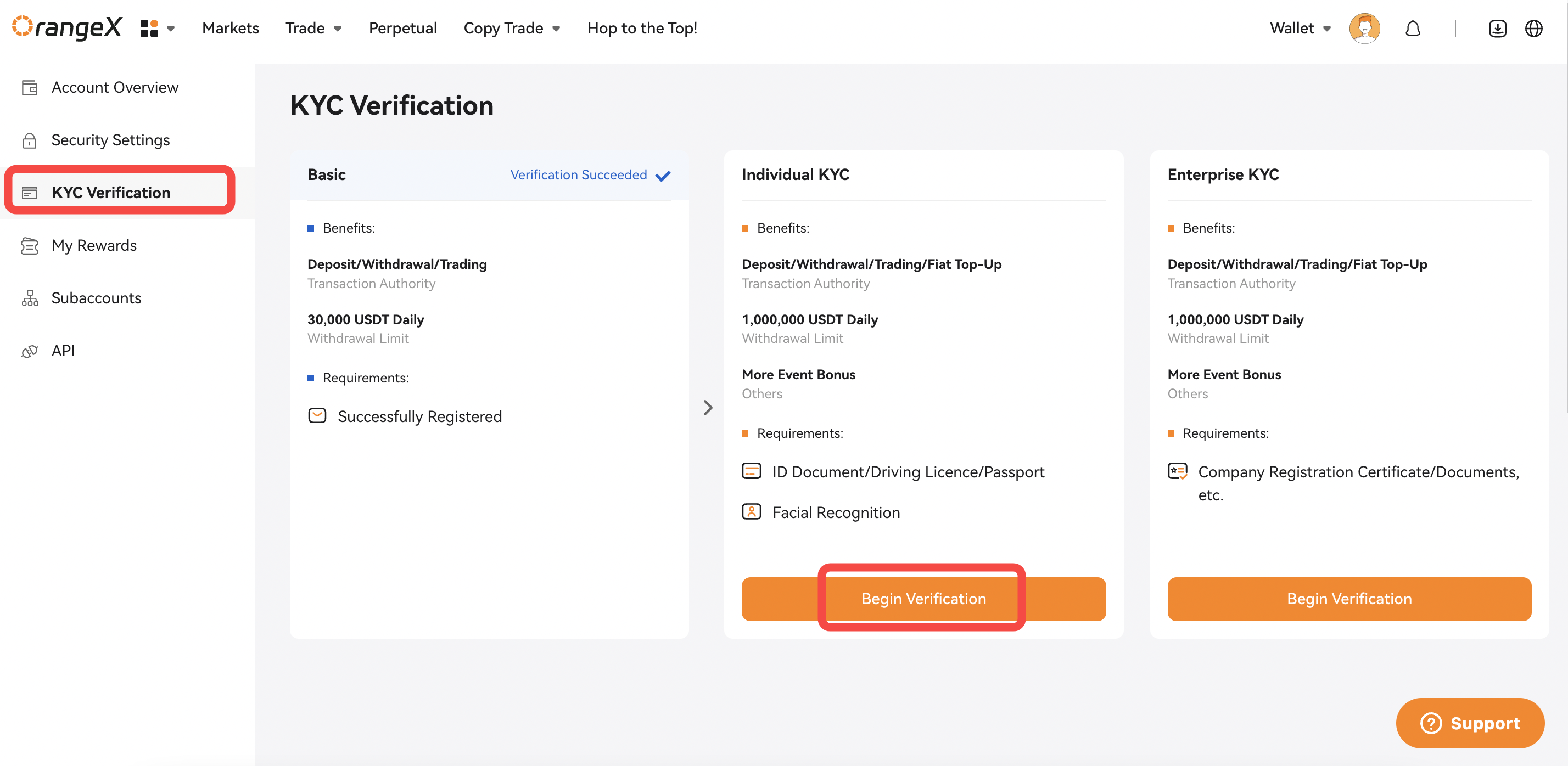 Instructions on 3 KYC Types
For Basic: After successfully registering the OrangeX account, users can directly utilize deposit, withdrawal, and trading functions. The withdrawal limit will be 30,000 USDT per day.

For Individual KYC: Users are required to upload their personal identity documents after registration. Once your verification is approved, you will be able to use the fiat top-up function, and your maximum daily withdrawal amount will be up to 1,000,000 USDT.

For Enterprise KYC: Users need to upload their company's registration certificate and other related documents as required. Once your verification is approved, you will be able to use the fiat top-up function, and your maximum daily withdrawal amount will be up to 1,000,000 USDT.
Step3: To complete individual KYC verification, please fill out the following form
-> Select your country/region of residence. Please note that we are unable to provide services to users from countries/regions that are not on this list.
-> Fill in your name here. Ensure that the name matches exactly as written on your identity document.
->Select the type of document you would like to verify with. We accept government-issued ID cards, passports, and driver's licenses.
->Enter the number of your ID document(passport number used as an example).
->Upload your selected ID document in .jpg, .jpeg or .png file, not exceeding 5M.
->Upload your facial video, which meets the following requirements.
Upload MP4. MOV or other video formats within 30M.
Please upload a video that clearly shows your face.
Make sure the video duration is no less than 3 seconds and no more than 10 seconds.
->Click [Submit] to complete your KYC verification application.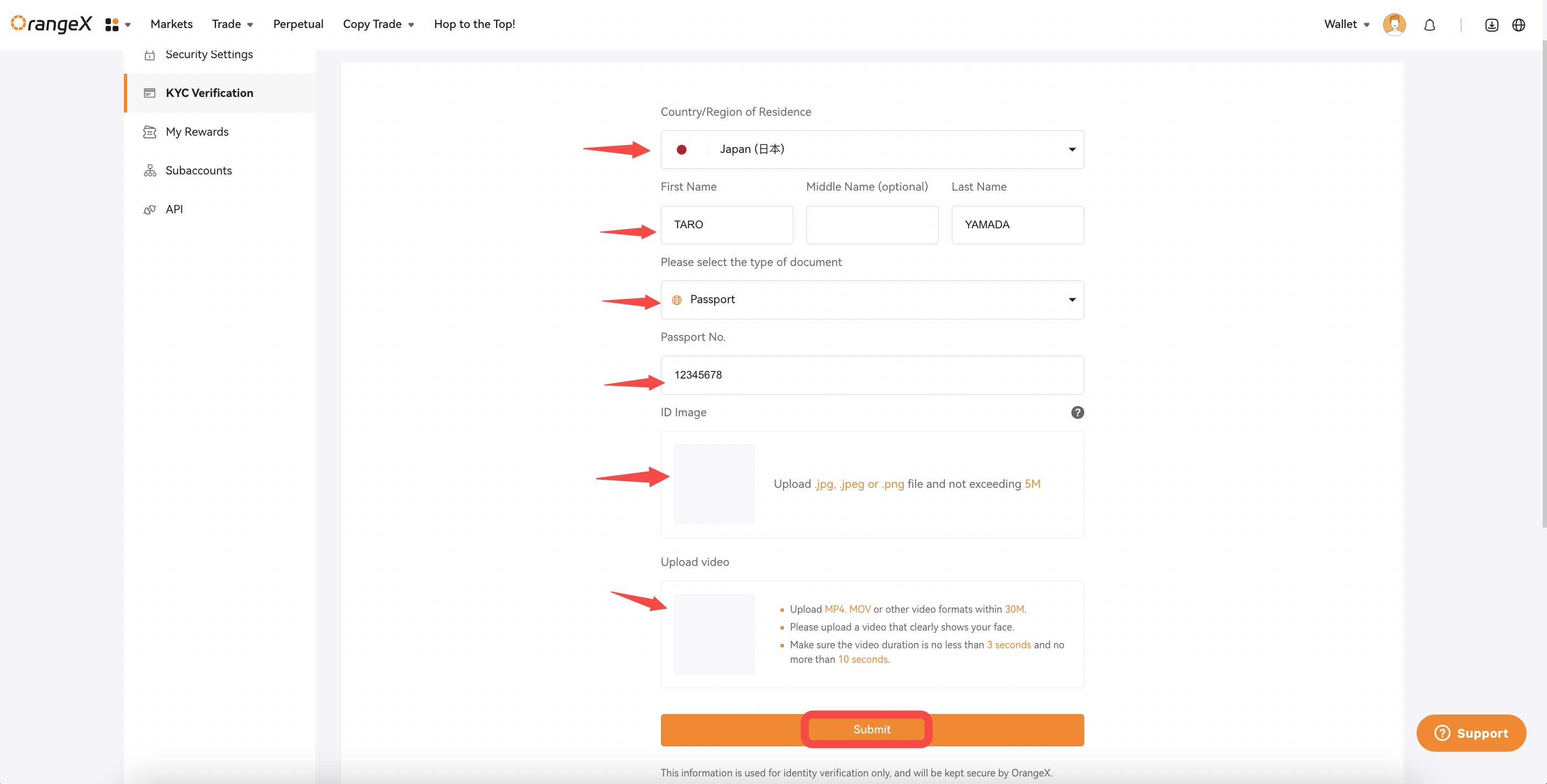 Step 4:
Your KYC verification is now under review. This process typically takes up to 24 hours for completion. You will receive an email notification once your KYC Verification is approved. Please check your spam folder as well to ensure you don't miss the notification email.