If you're a skilled trader, you're more than welcome to join OrangeX Copy Trading as a lead trader to show off your trading abilities and earn a profit share. In this article, we will guide you on how to apply to become a Lead Trader at OrangeX. Before submitting your application, please ensure you meet the following requirements:
Stop following other traders' portfolios.
Step 1: Anyone can apply to be a Lead Trader. Simply click [Be a Lead Trader].

Step 2: Fill in the information with your nickname and self-introduction.Then click [Confirm].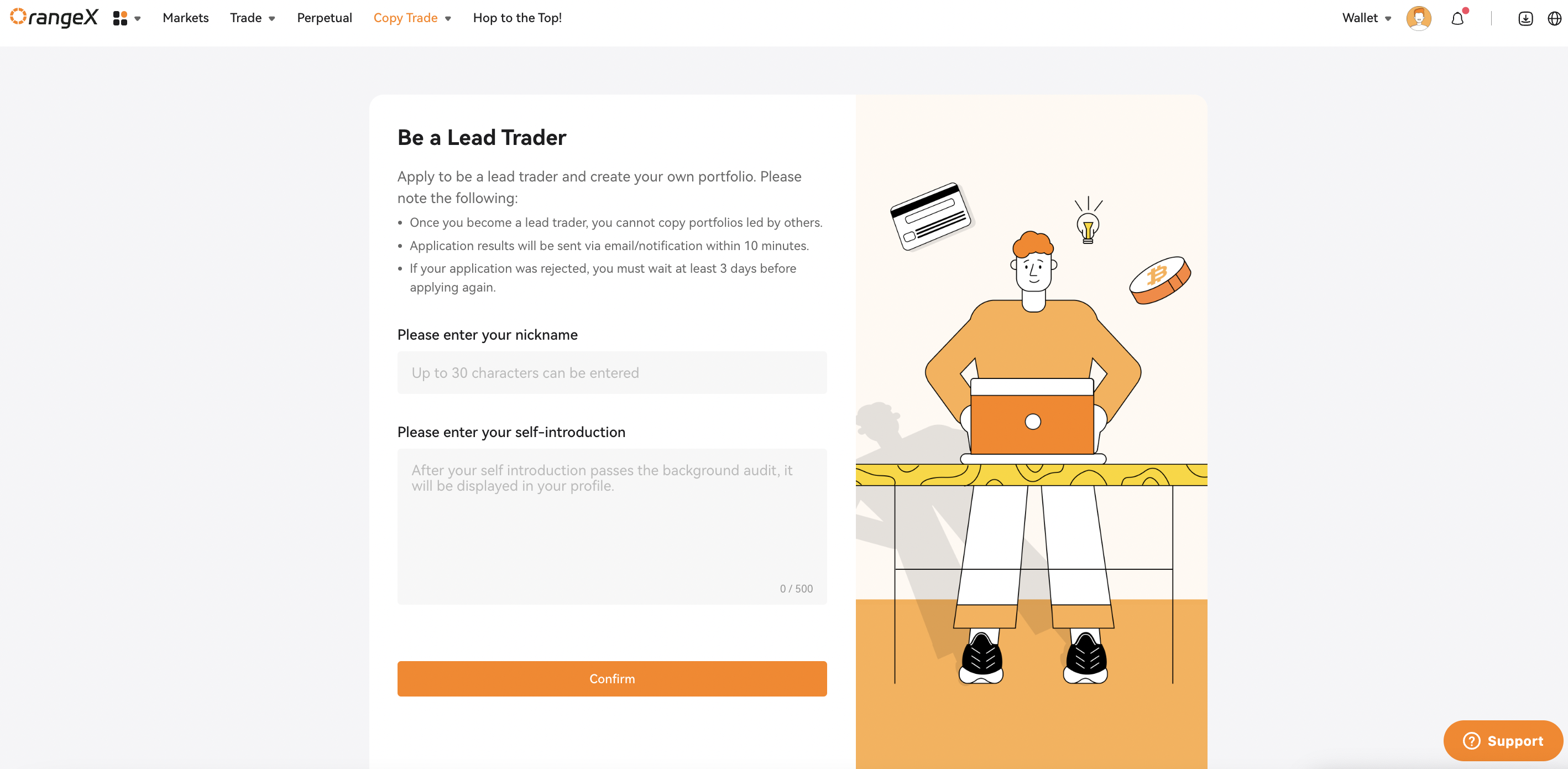 Step 3: The OrangeX team will review each individual application on a case-by-case basis. You will receive the notification via email and app push once your application gets verified. If your application was rejected, you must wait at least 3 days before applying again.
Please note: Once you become a lead trader, you cannot copy portfolios led by others.
Benefits of being a Lead Trader:
Lead Traders can earn a certain percentage of profits from Copy Traders, and the percentage is determined by the Lead Trader themselves. The income of Lead Traders will be settled at 02:00 (UTC) every Monday.

A Lead Trader can become a crypto trading influencer and gain industry-wide recognition for your trading expertise. As a crypto influencer, you create a community of like-minded traders. All of your followers usually have a common interest in your trading strategy or technique in which you create content. You not only create this community but even engage with it regularly.
How to create a portfolio?
Step 1: Go to the navigation bar, click [Copy Trade] and select [Create Portfolio]

Step 2: Fill in the [Portfolio Name] and [Portfolio description]. Then set your preferred [Profit Sharing Ratio] and [Amount] for copy trading. Finally check the service agreement and click [Confirm] to submit the creation.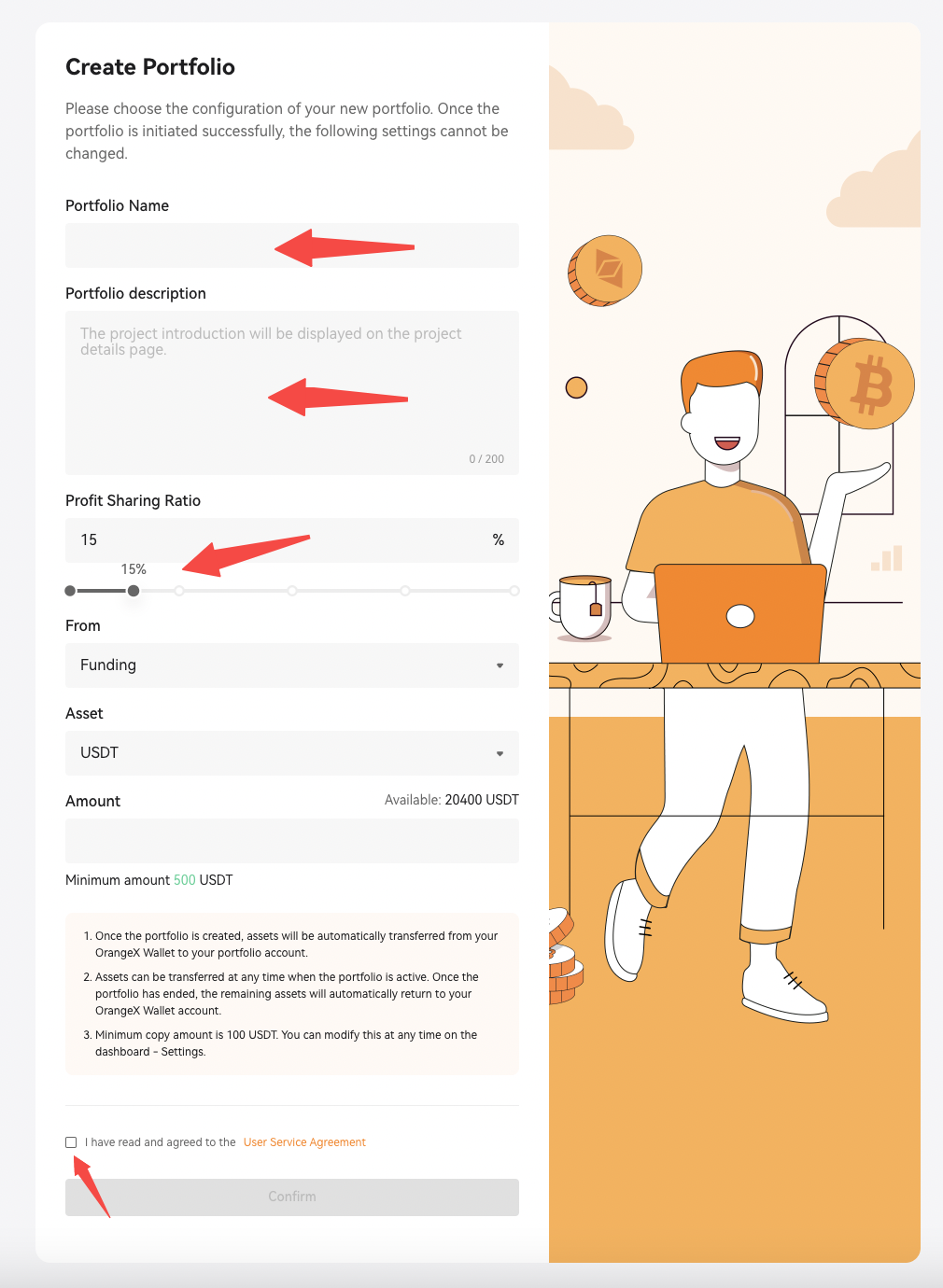 PLEASE NOTE:
The minimum amount to create a portfolio is 500 USDT, transferred from your funding account to the copy trading account.

The portfolio's name and description will be displayed on the project details page.

Use creative names to attract users.

Each Lead Trader can create up to six portfolios.
Step 3:
Click
[Trade]
on the pop-up window to access the copy trading page.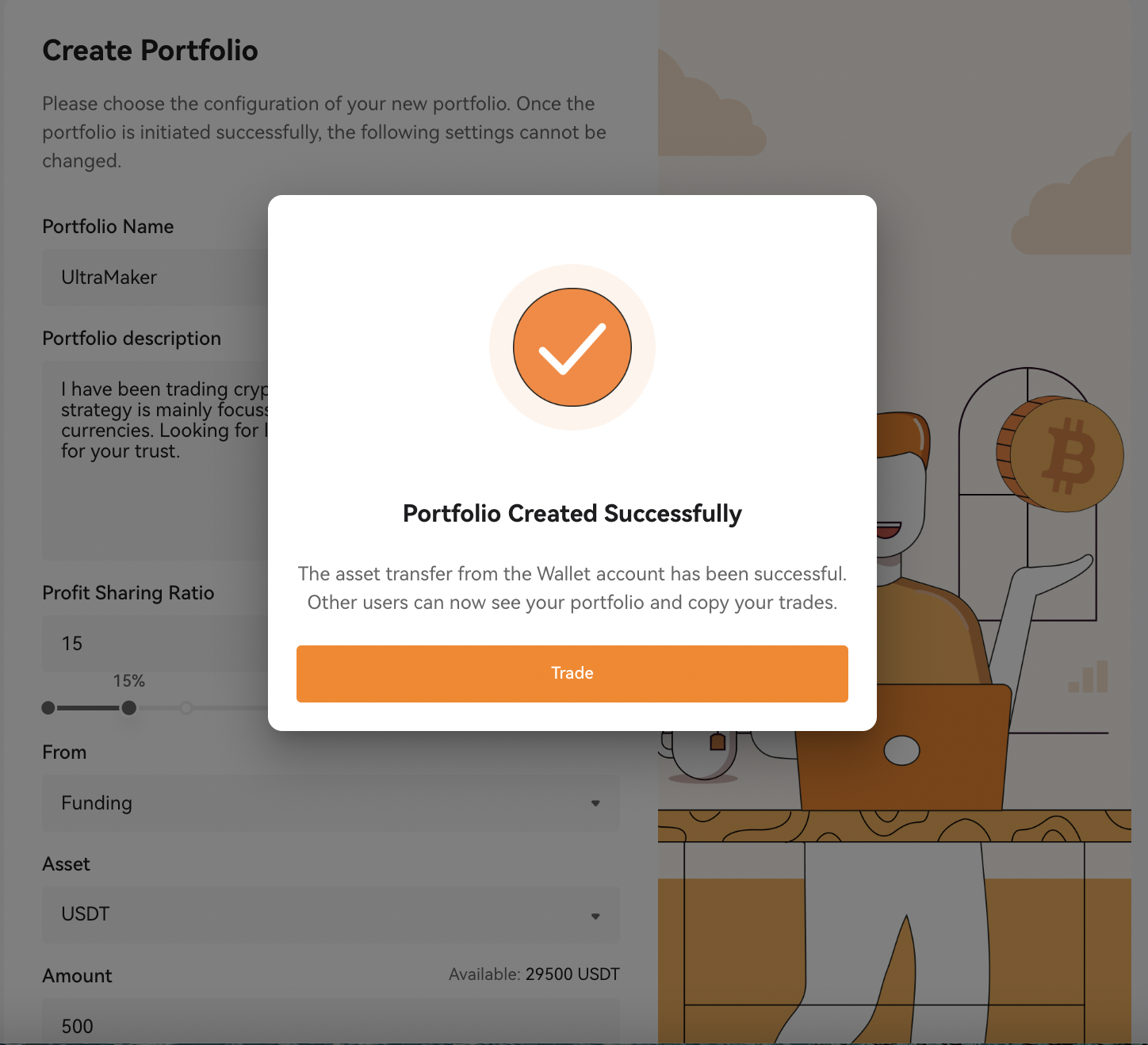 Step 4: Now you can make your copy trading on this page. All your portfolios will be displayed on the copy trading page. You can click the portfolio name to switch to different portfolios. If you want to create more portfolios, you can quickly click [Create Portfolio] on the right upper right of the page.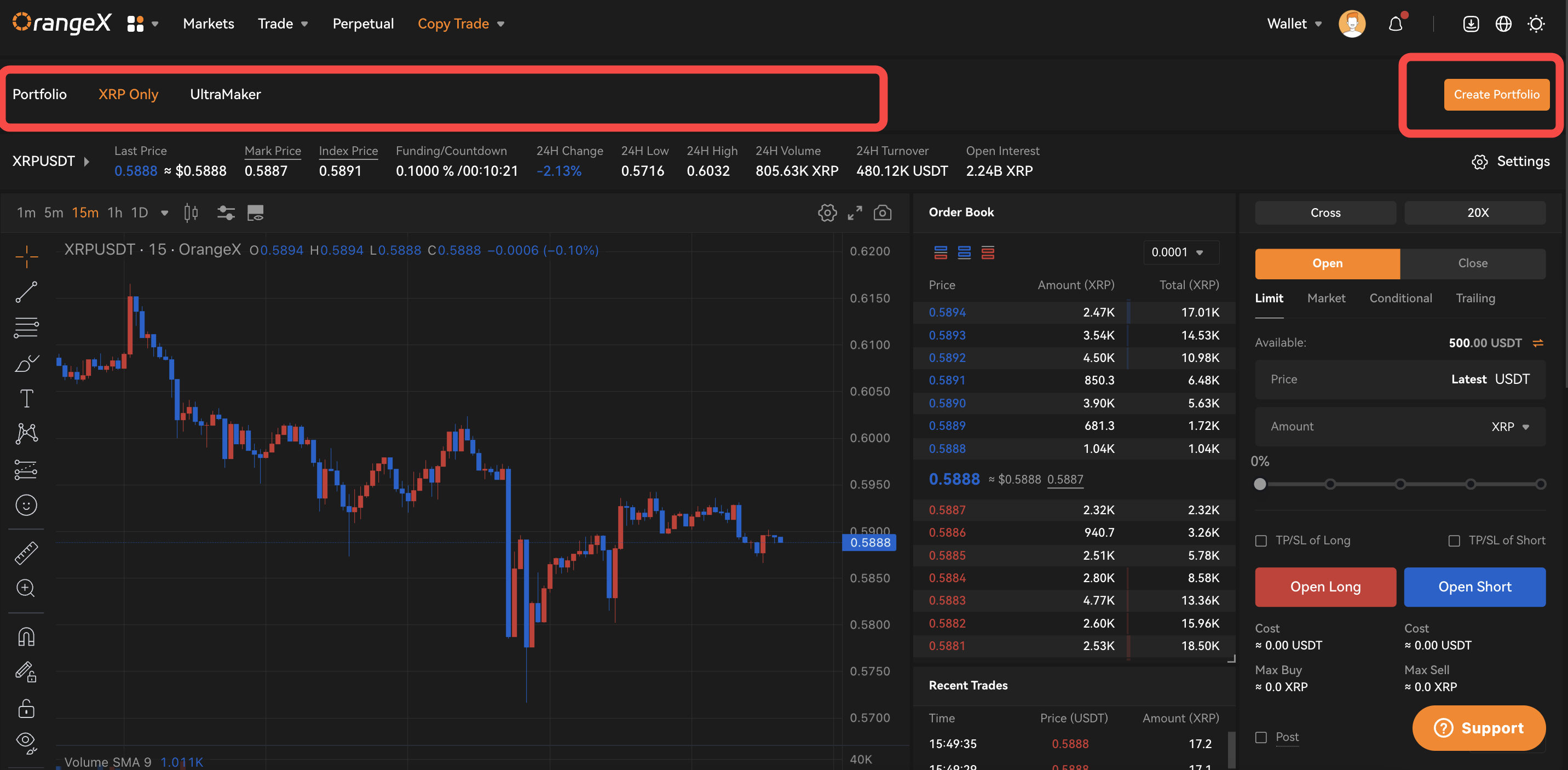 -
OrangeX offers perpetual contracts for Lead Traders to trade for copy-portfolios.
There will be more trading pairs supported in the future.
BTCUSDT Perp, ETHUSDT Perp, DOGEUSDT Perp, KSMUSDT Perp, APEUSDT Perp, UNIUSDT Perp
BNBUSDT Perp, SOLUSDT Perp, MASKUSDT Perp, MATICUSDT Perp, XRPUSDT Perp,ENJUSDT Perp
RVNUSDT Perp, CHZUSDT Perp, ATOMUSDT Perp, GMTUSDT Perp
How to check my portfolio details ?
Step 1: Click [Copy Trade] and [Dashboard] on the navigation bar and you will find sub-menus.
.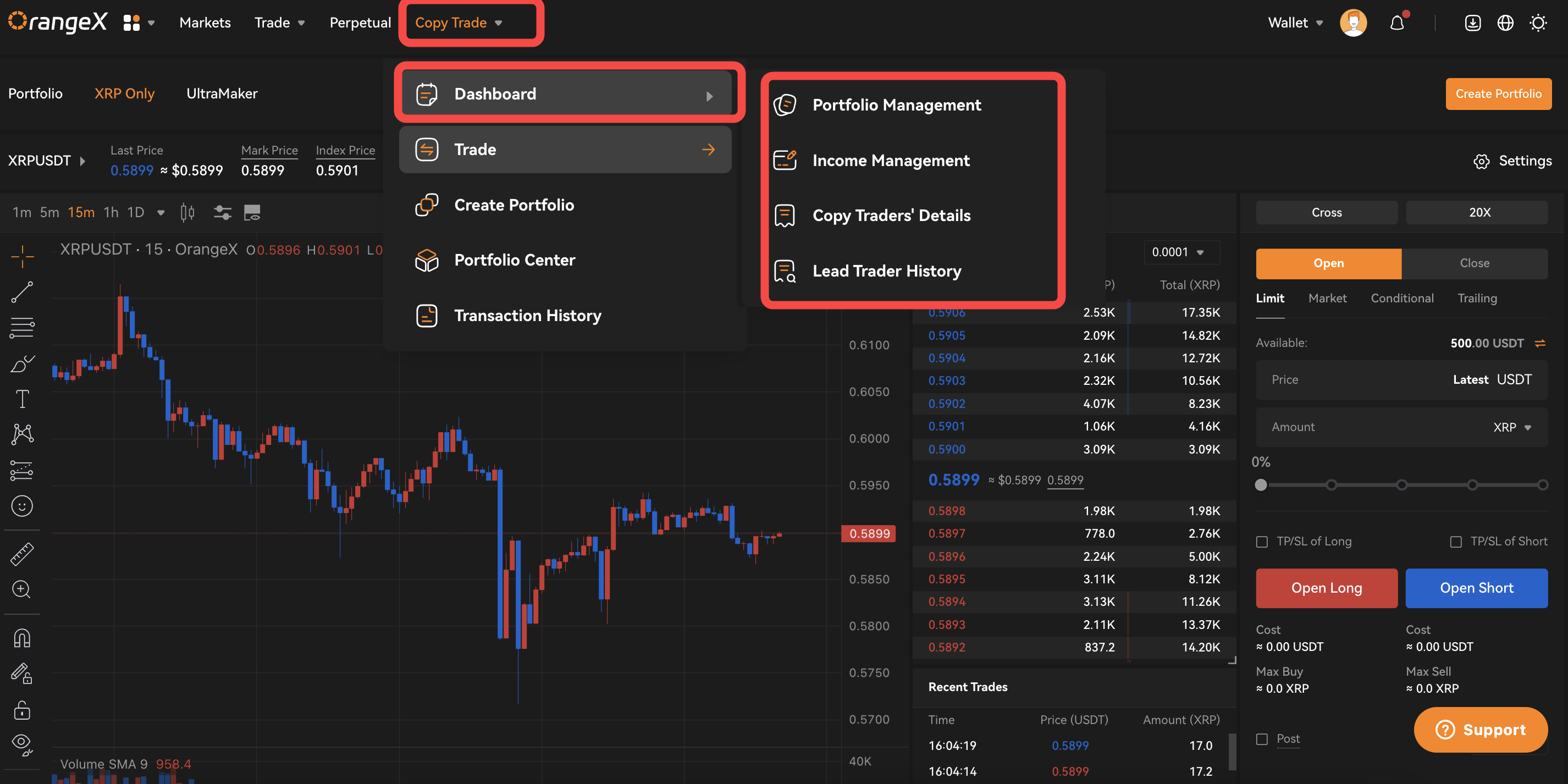 Step 2: Click [Portfolio Management] at Step 1, and you will find the overview of all your portfolios.
You can switch to [Ongoing Portfolio] or [Closed Portfolio] to check your portfolios under different statuses.
No. of Copy Traders (number of copy traders) shows the total followers from all your portfolios.
The limit is related to the portfolio numbers you created. Each portfolio allows 100 users to follow. The maximum limit is 600 because leader traders can only create 6 portfolios in total.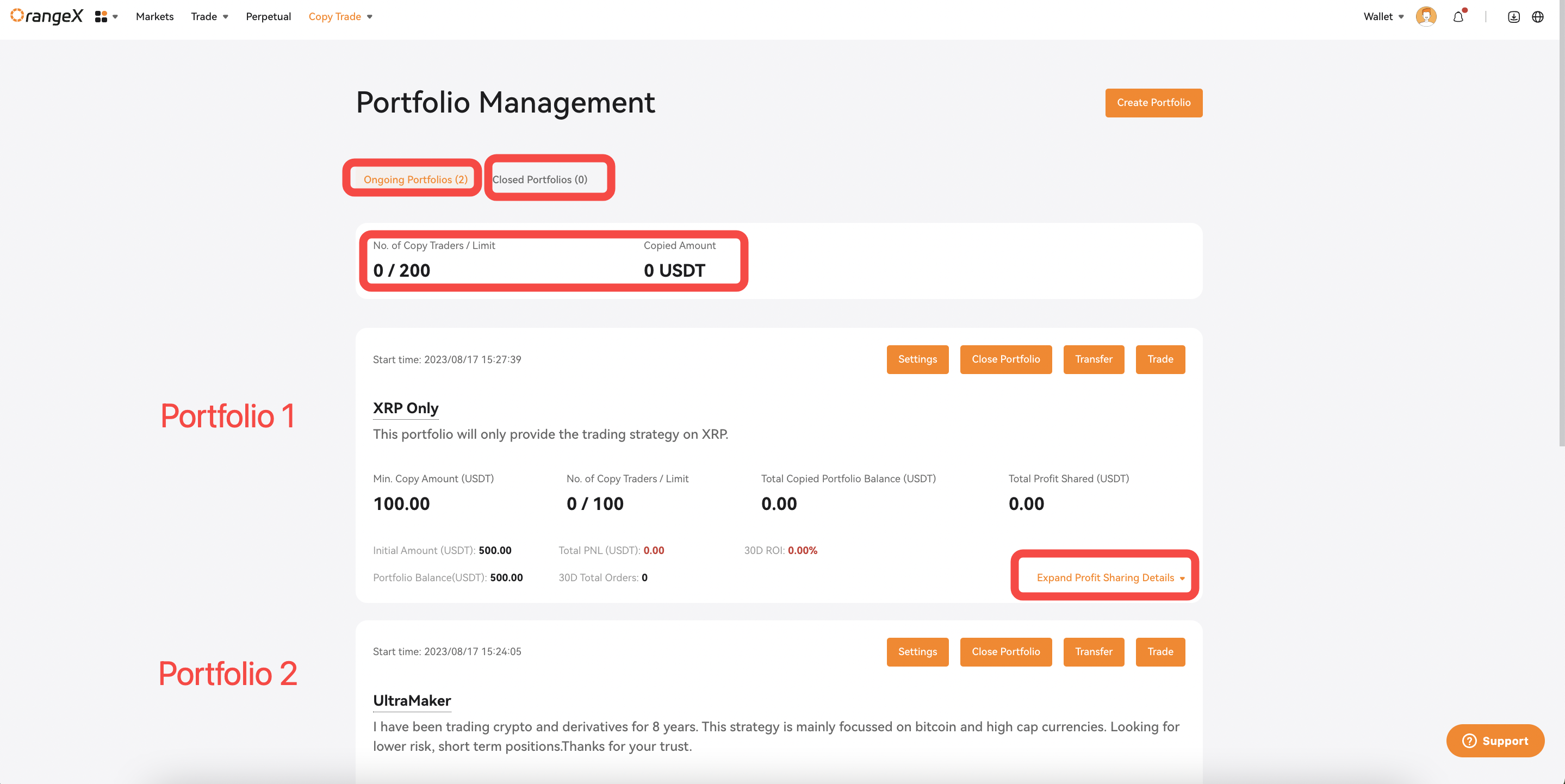 Step 3: Each portfolio's performance will be displayed on the page. Click [Setting], you can customize some parameters for your portfolio.
Min. Copy Amount: The default amount is 100 USDT. You can set your preferred minimum copy amount for your followers.
Max. Copy Amount: The default amount is 50,000 USDT. If your current portfolio amount is greater than 5,000 USDT, it is recommended that you set the minimum copy amount greater than 300 USDT. If the set amount is too small, the copy will fail.
Auto Pass Application: If enabled, you won't need to approve each follower individually. Current Positions Permission: If you want anyone to view your positions, you can enable this function.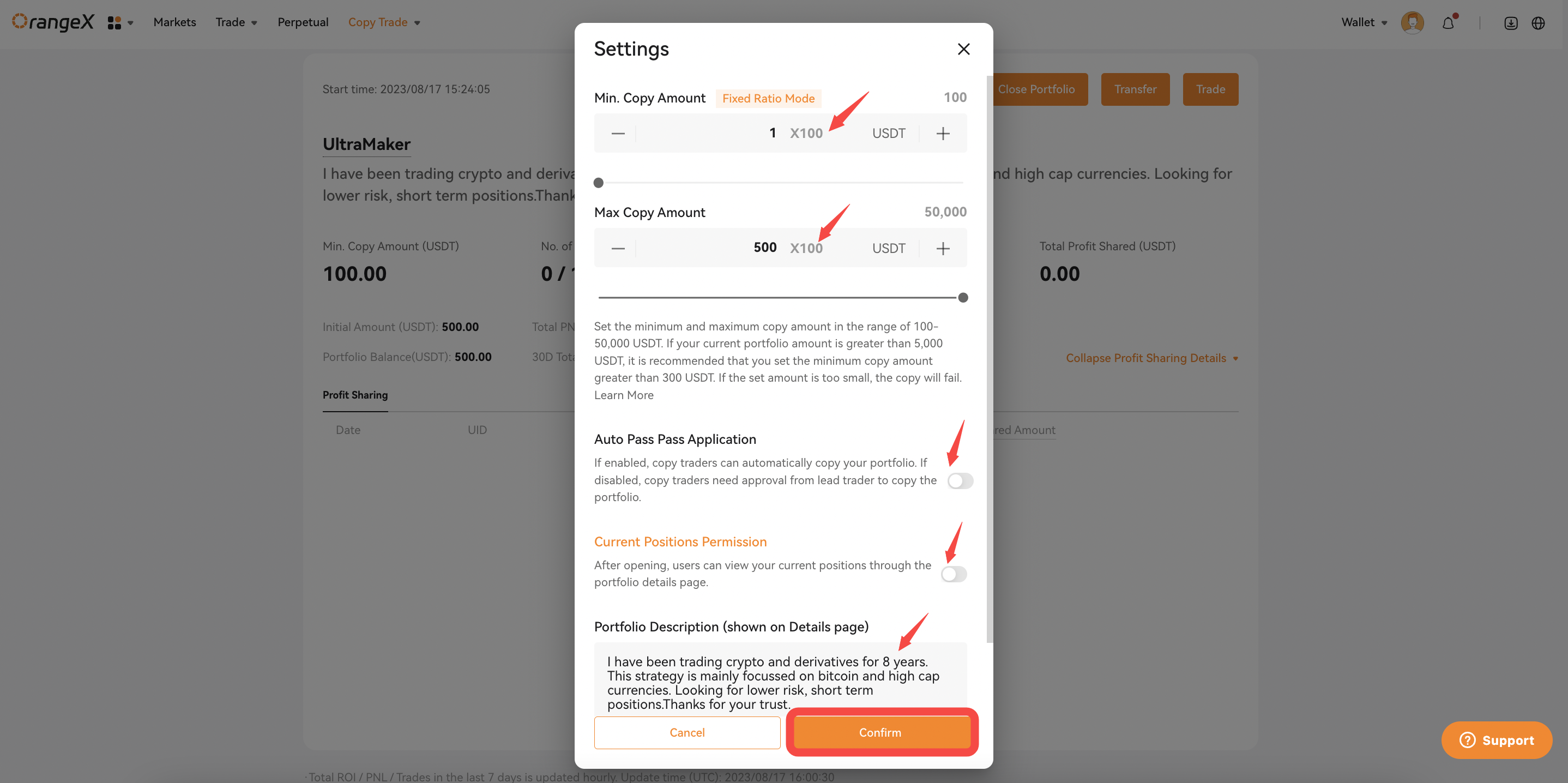 Step 4: If you want to add more assets on your portfolio, click [Transfer] to proceed it.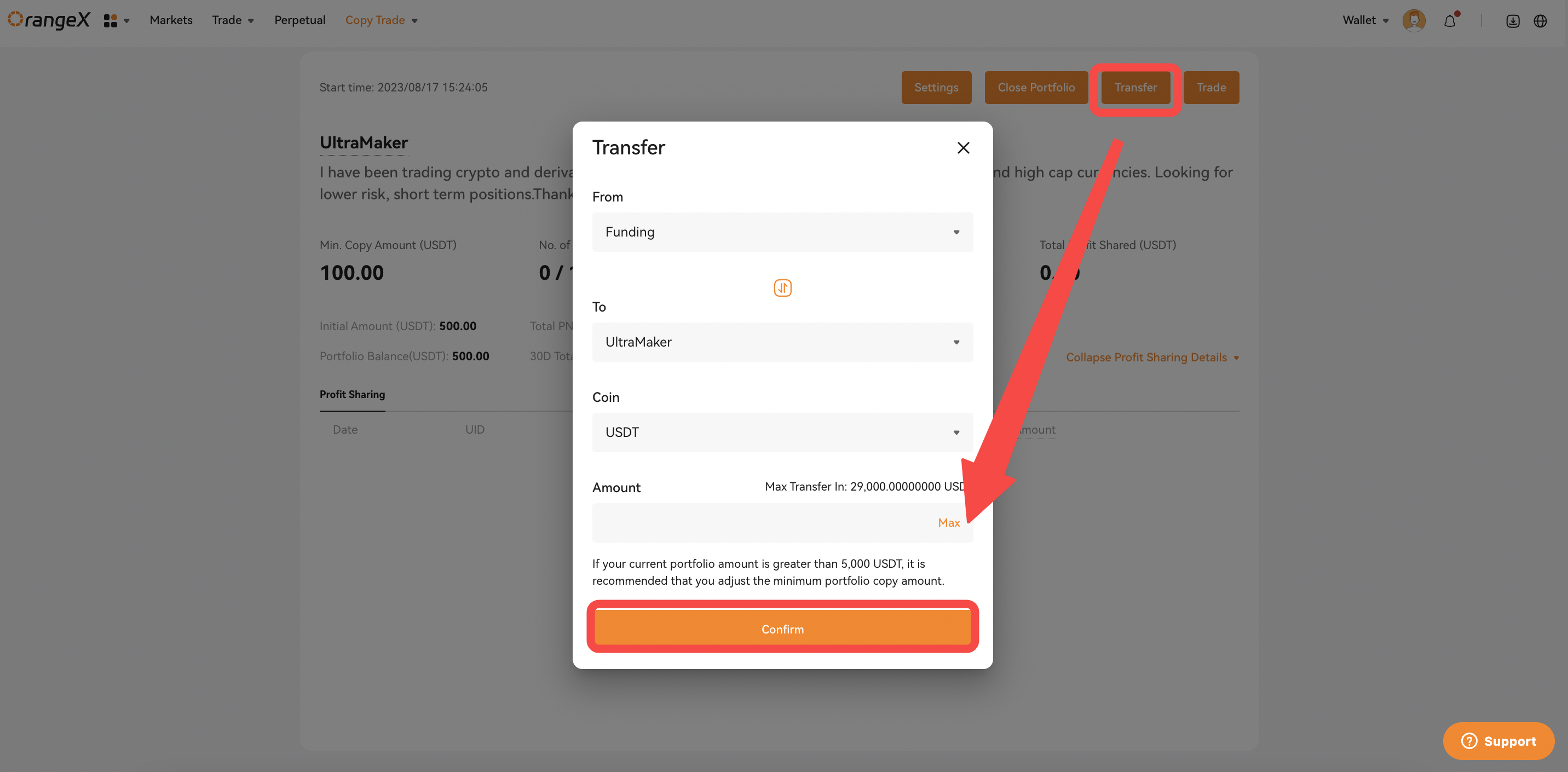 Step 5: If you want to close your portfolio, click [Close Portfolio] to proceed it. Please check the notes carefully before you click [Confirm].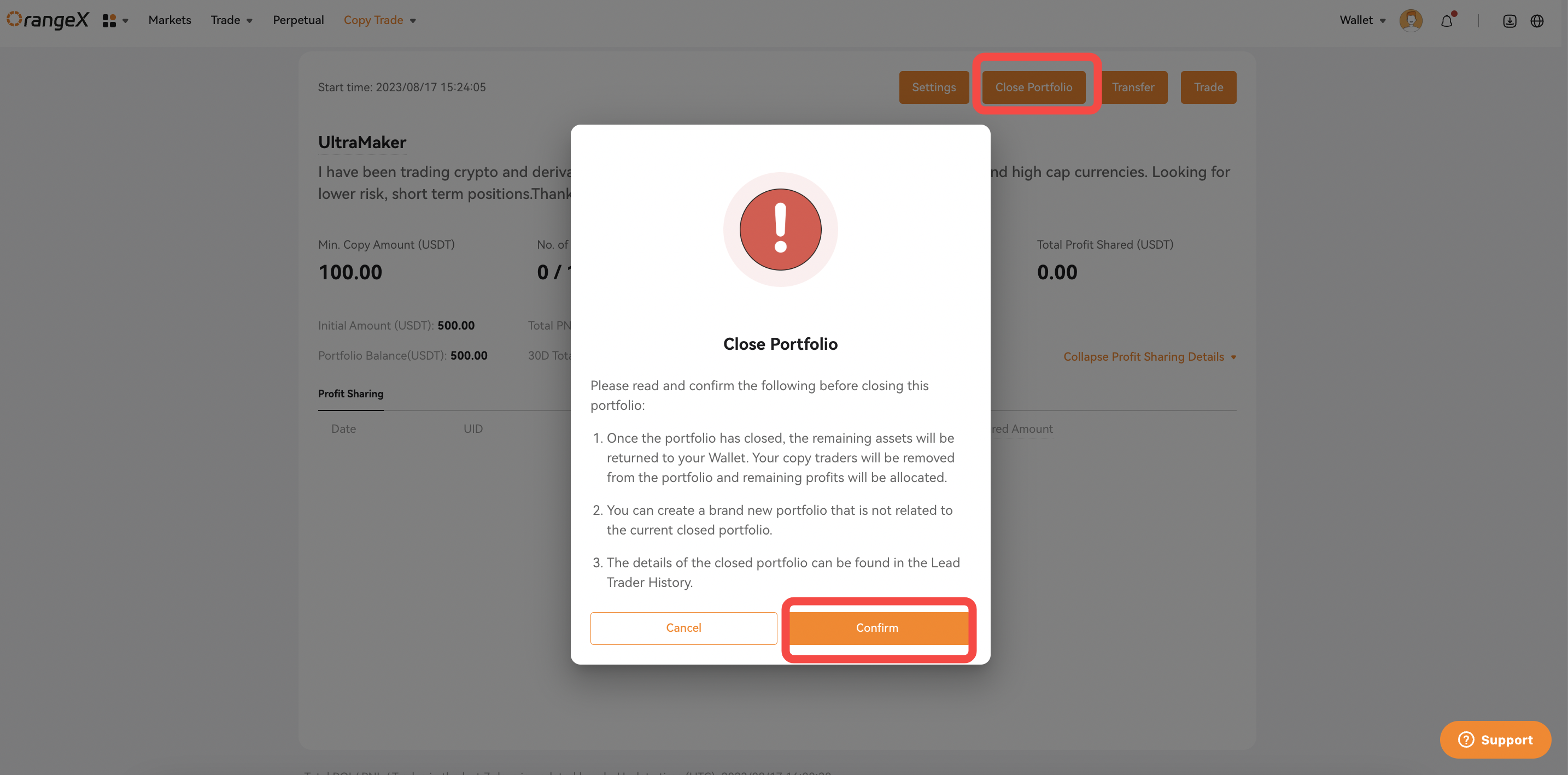 Step 6: Click [Income Management]at step 1, you can check your profit sharing in total and details.

- When will profit-sharing be paid out?
Profit-sharing will be issued under the following conditions:
When a Lead Trader exits his / her portfolio, all copy-trades will be closed and profit-sharing from each copy-trader of the copy-portfolio will be paid out.
When a copy-trader manually exits the copy portfolio, his / her profit sharing will be paid out to the Lead Trader.
How to check my trade history and followers' details?
Step 1: Click [Copy Trade] and [Dashboard] on the navigation bar, you will find [Copy Trader's Details] and [Lead Trader History].
Step 2: There are 4 categories under [Lead Trader History]. All your copy trading related [Open Order], [Order History], [Trade History], [Profit Splitting History] are fully recorded here.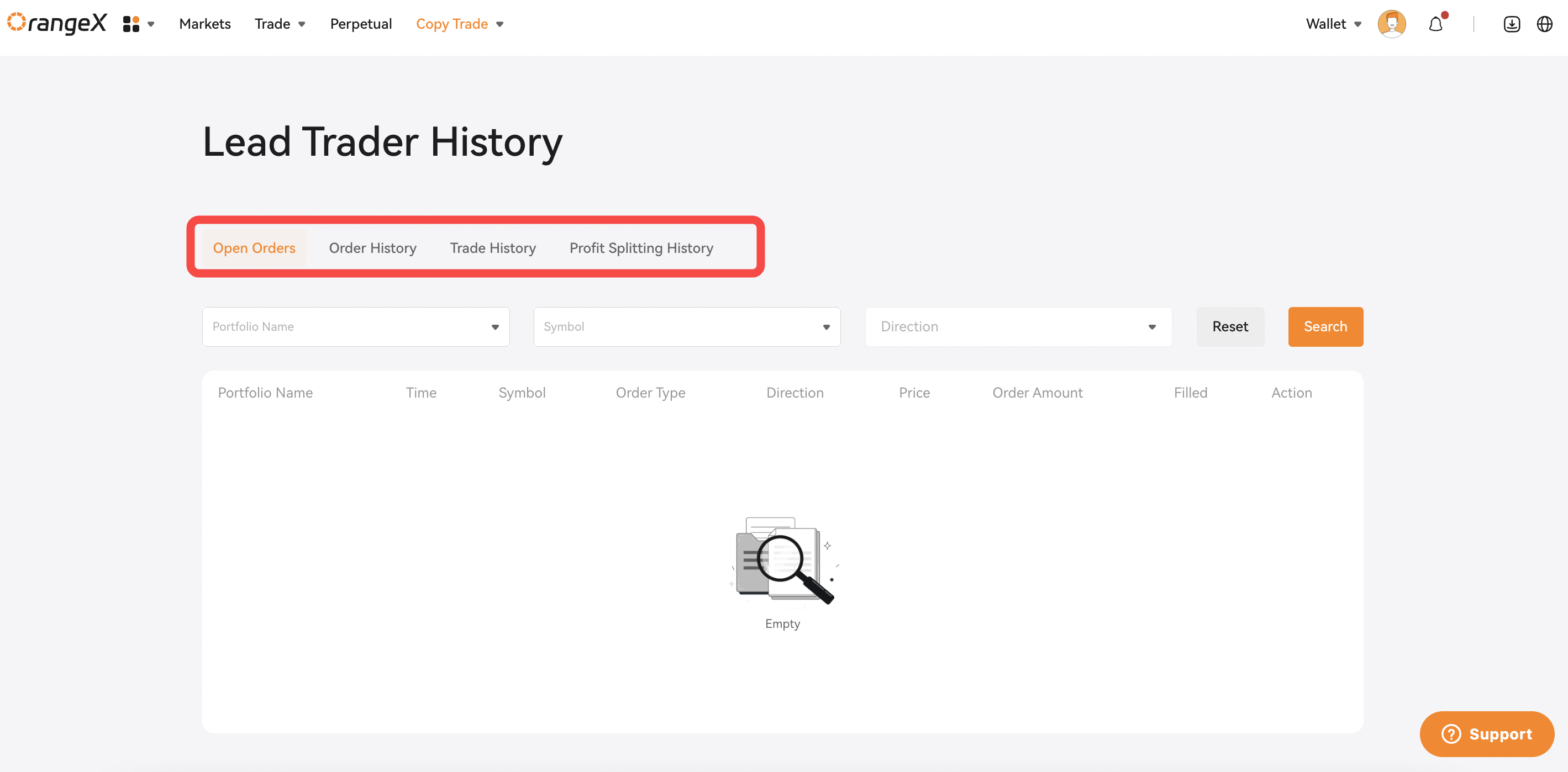 Step 3:You can check all your follower's copy trading under [Copy Trader's Details],